About
This page may contain affiliate links. That means that I get a commission if you decide to make a purchase through my links, at no cost to you and does not impact your price or buying experience. Please see my Disclosure for more details.

Hi I'm Bob.

I believe our core values are the things that we care about and guide us in life. My core values are honesty, reliability, perseverance, respect and a little bit of good humor mixed in. I know this at 74 years old and these are the values that have dictated my behavior over my lifetime. In retrospect, some of these I didn't realize were my core values until I look back over the years past. As a young man today it wouldn't have been as easy to realize. I wanted to share this with you for whats its worth.

Insureandrive.ca is a small 9-page website. My website is not a member company of any Association (travel or otherwise), or a Corporation. I don't have large staff to help run my site. It's a family-owned business since 2018 and I am at the helm.

Using Insureandrive.ca does not require you to login. You can browse or use my website without signing-in. I must say however, that my site is secure with 256-bit secured encryption.

I think my website is special because it's a hand-coded website and responsive. If something is broken, I fix it myself.

My business is based in a small town in Northern Ontario, Canada. I am a Native Canadian.

If you found your way to my website because you are facing a problem that needs solving, I may have a viable solution for you and how to make your life easier and better and why I think I qualify to offer the product I am presenting here to you. I believe Worldnomads will save you travel insurance cost with competitive price.

Worldnomads targets only to young thrill seekers, who enjoy taking part in extreme sports in scuba diving, surfing, bungee jumping and skiing and other activities involving phyiscal risk. Sadly only people that are 69 years or younger can apply for travel insurance...

Travel insurance is important for world travelers who need a solution to protect themselves from unexpected situations that could affect their travel plans, trip investment and health when traveling.

A travel insurance policy can protect you from a variety of unexpected circumstances while you're traveling. For example, if your baggage gets delayed by your airline, damaged during check-in, or stolen, travel insurance can help. If you are seriously injured and need to go home for treatment your travel insurance can take care of medical evacuation. Cover your tech while youre working or travelling overseas. For when you have to cancel your trip because you or a close relative falls unexpectedly sick. You're overseas and you need a doctor - now. Get medical insurance to help cover your medical and dental expenses. Planning a domestic trip? Buying travel insurance for a trip not far from home can have a number of benefits too.

In the last few years, travel insurance has become one of the most popular insurance products available, as it is extremely cost-effective. It's practically indispensable on international trips, it's a great safety net to give you peace of mind when traveling.

Whether you're planning on going solo or with a group of friends or family for adventure, WorldNomads can help you find an appropriate international travel insurance policy that meets your needs. You can compare all of your trip insurance options, procure coverage online and travel worry-free.

The right travel insurance policy gives you peace of mind no matter where your world travels and adventures take you. You'll know where to turn to if something goes wrong, with 24/7 emergency assistance from Worldnomads.

It can be hard to know where to begin when searching for a travel insurance policy. An ideal policy should offer sufficient coverage at a reasonable price. There are many different variables involved in the quote process and Worldnomads offers a variety of plans and coverage levels to choose from. No one should go through this process uninformed and without an easy way of navigating the world of travel insurance. Since World Nomads use different insurance providers depending on your country of residence the insurance price, terms, limits and benefits vary from one country to another. Be extra careful to read the full policy wording for your country of residence.

Insureandrive.ca helps you compare plans from Worldnomads. Their comparison engine allows you to easily decipher plan benefits and coverage while choosing the right travel insurance policy for your trip. Their expert insurance agents will be there to answer all your questions during your application process.

You can quote for free, compare and buy in just a few minutes and receive your policy confirmation and documents via email instantly after purchase.

We are not owned by any insurance companies, nor am I a licensed broker or insurance agent so the information and comments I present on my website is my own.

How I make my money

Insureandrive.ca is free to use. You'll never pay a penny more than you should for buying insurance through my service.

If you decide to buy a policy through Insureandrive.ca, the insurance company pays Insureandrive.ca a fee for getting them your business. The insurer pays this after you've bought a policy, so it never has an impact on how much you pay for your insurance. It's basically their cost to advertise with Insureandrive.ca.

Whether you decide to buy or not, using Insureandrive.ca costs you nothing!

What's more, Insureandrive.ca has agreements in place with my insurer that is designed to look out for you. Our agreements make sure that the price you see on Insureandrive.ca is at least as good as what you'd see by going direct to the insurer.

I think this small website willl help to address your travel needs. I also believe that I have earned your trust.

Click on the banner below today and apply for your travel insurance for your next adventure.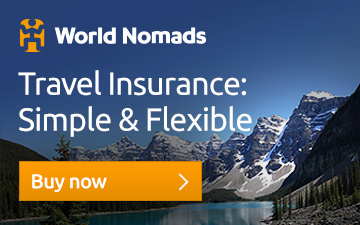 Disclaimer: The material provided in the Insureandrive website is for informational purposes only and does NOT constitute insurance, legal, financial or other advice, and should not be relied on as such. If you require such advice, speak with a qualified insurance professional to help you.
Remember the name: Insureandrive.ca